Accommodations on Board
Al Andalus has a total of 32 suites consisting of 12 Gran Clase Suites and 20 Deluxe Suites, all of which have separate air conditioners. During the day, the beds fold into comfortable couches converting the suites into private lounges. Additionally, the highly trained train crew is available at your service 24 hours a day to assist you with all your needs.
There are 7 cars in the train for guest rooms. The first five cars that are closest to the lounge and other public area cars are with Deluxe Suites with matrimonial beds. There are four suite Deluxe in each of these train cars.  The following two cars have the Suite Gran Clase with 6 such rooms in each car.
To facilitate a good night's rest for our passengers, the train will remain parked at a station during the night.
Suite Gran Clase Rooms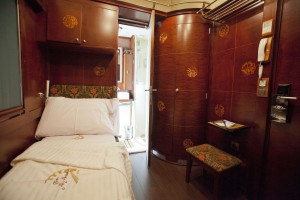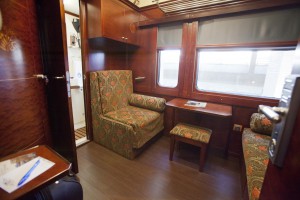 There are two train cars with Suite Gran Clase. Each of this train car has 6 such rooms with a total of 12 Gran Clase rooms on the train.

The suite has two TWIN beds that fold to make a sofa. The configuration is in an L design.

Facilities:
• Accommodation in the train.
• The best food in dinners and lunches at top restaurants or on the train (including wine, coffee and spirits).
• Breakfasts with buffet and menu.
• Music and entertainment in the Pub coach.
• Programmed excursions with entrance to museums, cathedrals, cloisters, etc.
• Luxury coach accompanying the train all the way.
• Daily newspapers and magazines.
• Permanent security service.
• Multilingual guide throughout the tour.
• An excellent team at your disposal.
Suite Deluxe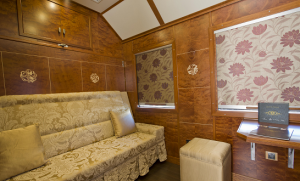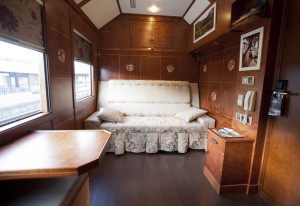 Facilities In a  Suite Deluxe:
Everything included in the Suite Gran Clase plus:
• Accommodation in Deluxe Suite on the train.
• Option of enjoying two private dinners/lunches in your compartment.
• All non-alcoholic beverages requested at any time throughout the trip.
• Transfers: including two Renfe transfers, one to take you to the starting point of the tour and another one to take you back from the end point of the tour.